Injuries in Gaelic sport are inevitable due to the nature of the games.  
It is physically demanding, involving running, kicking, jumping, landing and tackling.  
By carrying out a scientifically designed warm-up routine for GAA, you can reduce the most common injuries to the knee, ankle, hamstrings, quads and groin.
As an added bonus, these exercises will also improve your performance in training and matches.  
The Sports Institute of Northern Ireland and Ulster GAA have produced an injury prevention guide called the Activate GAA Warm Up. 
It has been proven to reduce injuries by 50% when carried out regularly before training and games.  
You can access it by clicking on the guide below: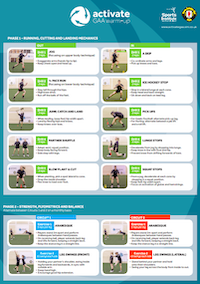 Please share this Activate GAA Warm Up with your teammates or coaches.  
Are You Frustrated With Injury?
Are you sick of sitting on the sidelines while everyone else is training?  
Book your complimentary Get Back On The Pitch consultation using the button below.